Necklief™ Cervical Neck Traction Device
Detail Product
LIVE THE PAIN-FREE LIFE YOU DESERVE
Necklief™ is a professional and easy-to-use neck traction device that is designed to relieve pain in the neck muscles and cervical spine.
Wear it for just 5-10 minutes a day for pain relief that lasts the entire day.
Not only does it deliver instant relief, but you can see lasting results after daily usage.

HOW DOES IT WORK?
Neck pain arises when there is decreased space between the intervertebral discs or too much pressure on the neck muscles, which causes issues such as headaches, pinched nerves or prolapsed discs.
Necklief™ handles these problems by allowing your neck muscles to stretch & relax.
It increases the amount of space between your intervertebral discs, which promotes blood circulation and relieves tension & pain.
A single session provides instant relief, and daily use contributes to a healthier posture, proper spinal alignment and increased range of motion.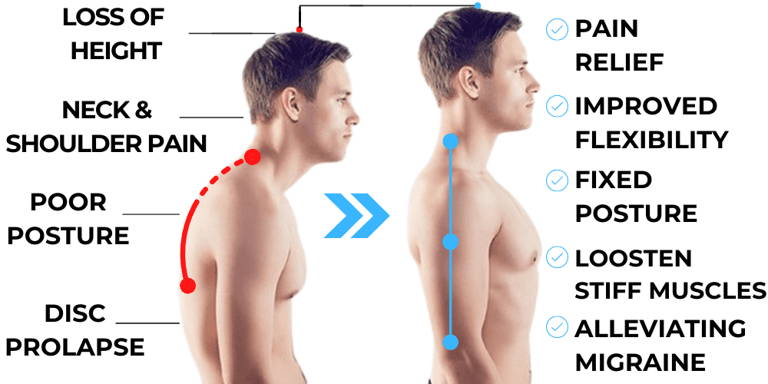 WHO IS IT FOR?
If you sit at the computer often, travel frequently, or suffer injuries, then Necklief™ is perfect for you.
It's been designed to be fully adjusted to your needs by means of the precise hand pump mechanism to keep your neck aligned no matter where you are.
Use it during work, as a travel companion on long drives and flights, and to help relieve pain caused by injuries.
It's the perfect solution for anyone looking for neck pain relief!
HOW DO I USE IT?
Follow these instructions to learn how to relieve your neck and shoulder pain in 4 easy steps:


1. Use a mirror as a reference to position the device correctly. You can use the two nylon straps in the front to adjust the fit. 
2. Before inflation, push the blue wheel on the airlock down away from the hand pump. 
3. Use the pump to inflate to your preference, then roll the wheel back to lock the air in. 
4. Use at most for 2-3 times per day, up to 30 minutes per session. 
5. Deflate by unlocking airlock and twisting open the screw connected to the pump. 

Why Inflatable?
A: The answer is simple - for maximum comfort and proper adjustment. this cervical pillow is easily adjustable so you can control the amount of air for a comfortable spinal stretch to relax your neck and shoulders.

TRY IT 100% RISK-FREE
We are convinced that we can help you achieve more quality of life and wellbeing in everyday life.